...a long, long time ago (last year), I promised a friend that I'd make her a blanket for her birthday. The problem was I couldn't decide what sort of colors and pattern I wanted to use. She left it up to me to decide and told me a few colors she didn't like, but that was pretty much it.

I debated for a few months on various ideas, but nothing seemed quite right.



Then one day while playing on Neopets, I came across this background:




It really caught my eye for some reason, and then I realized that I had every single color of it in Caron's Simply Soft. I jokingly thought, "Ha! I could make a blanket that looks like this background!"

Then I thought that my friend would probably like the colors as well, so I showed her the background. Sure enough, she liked it.

Now, wayyyyy too many months later, the blanket is finally done!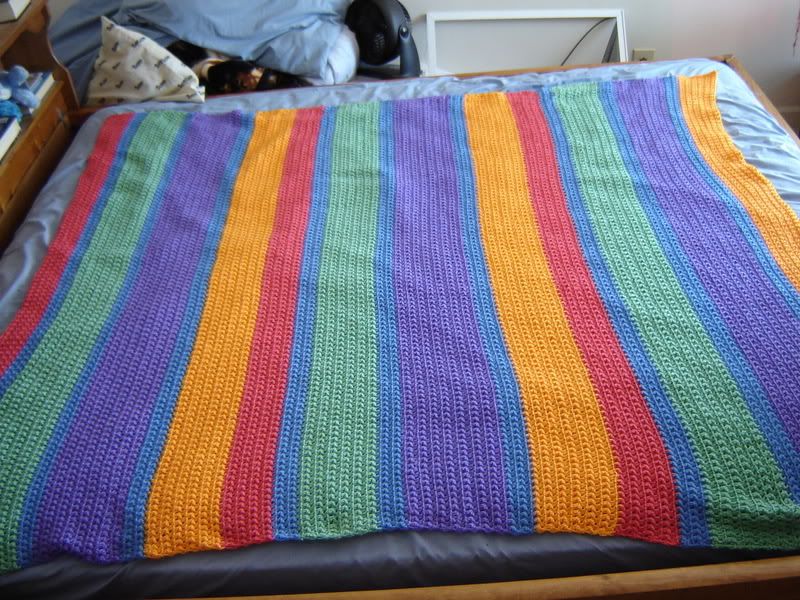 The blanket measures 5 feet 2 inches wide and 6 feet long. I know, I know, that's an odd measurement, but she wanted it about as tall as she is (5' 1"), and the color sections made it work out to being really wide. Two color sections just weren't big enough to wrap up in properly.

The beauty part of measuring out the length is that she and I are the same height. I just crocheted until it was a little taller than me, so I have no idea how many stitches are in a row. I can tell you that each row took me approximately 12 minutes to crochet, and it worked out that the blanket took me around 35-39 hours to complete. I figured it up the other day and forget the total now. I had to rip out a total of 20 rows due to mess ups. That wasn't fun.

Here's a closer picture for those who are interested:




The true beauty of this blanket is that I made this entirely out of my Simply Soft stash. I didn't have to buy any extra colors at all.

I really love how this blanket turned out. It's soft, it's warm, it's bright. I'm going to make one for myself as well. I have enough of some of the colors, but I may have to buy a couple of skeins for a couple of them. Plus I think I might do mine in lime green instead of the sage I used for hers, and most of my lime green is going towards another blanket I'm working on.

Cross-posted like mad.